ArtCentrica nell'articolo di .ART
art, ArtCentrica, digital innovation, DIGITAL INNOVATION IN ART AWARD 22
ArtCentrica nell'articolo di .ART!
Dopo l'annuncio di qualche settimana fa, in cui vi avevamo comunicato di essere entrati nella Longlist del Digital Innovation in Art Award 2022 con ArtCentrica, oggi vogliamo condividere con voi un'altra importante novità: un articolo dedicato alla nostra startup a cura di .ART, partner dell'iniziativa.
Vi ricordiamo che ArtCentrica è stata selezionata per il Digital Innovation in Art Award 2022 insieme ad altre 19 aziende operanti in tutto il mondo nel settore tecnologico, che stanno impiegando le risorse digitali per promuovere e innovare il settore culturale.
Il Digital Innovation in Art Award raccoglie innovatori e imprenditori che con le loro soluzioni digitali stanno cercando di superare i confini legati all'Arte, rivoluzionandone il significato, attraverso l'implementazione dell'Intelligenza Artificiale, la creazione di NFT, lo sviluppo di soluzioni EdTech e le sperimentazioni 3D.
Insieme a noi sono stati selezionati anche: ARTƎCONOMY®, Artivive, Arlekin Players Theatre, ArtisFact, Cohart, Cosimo Art, Fair Art Fair, Legit.Art, Navigating.art, Solimán López, P55.ART, Sensorium, Snark.art, Talenthouse AG, Tokenin, Verisart, Zarastro Art e The fine art ledger.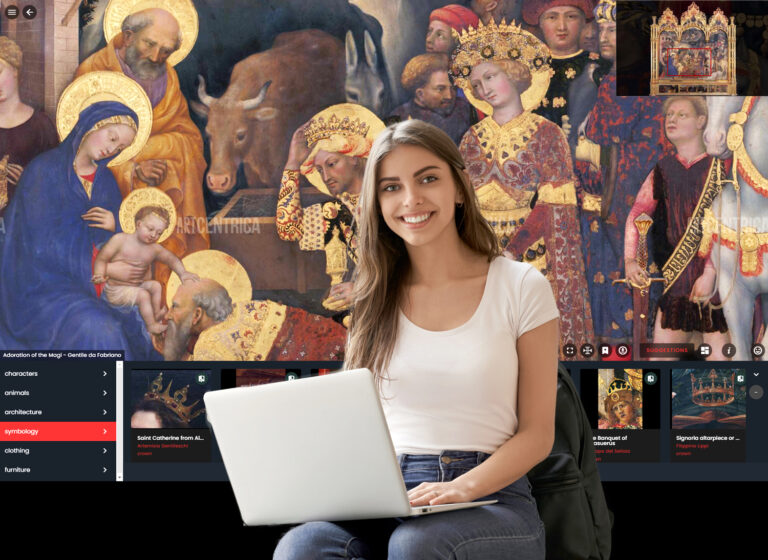 UN'INTRODUZIONE AD ARTCENTRICA
ArtCentrica è una startup e una soluzione EdTech rivolta al mercato dell'istruzione. L'approccio pedagogico di ArtCentrica si basa sull'apprendimento attivo, che consiste nel creare un ambiente che incoraggi gli studenti a partecipare attivamente al processo di apprendimento.
L'applicazione contiene diverse collezioni museali, con immagini di opere d'arte fino a 10 GigaPixel di risoluzione: Gallerie degli Uffizi, Pinacoteca di Brera, MET, Rijkmuseum, Istituto Centrale per la Grafica di Roma, Cleveland Museum of Art, Museo Nazionale Finlandese, Museo Egizio, SMK (Statens Museum for Kunst), Staedel Museum, Art Institute of Chicago e 30 vedute fiorentine.